foundation
HOW TO DONATE...
Anyone can contribute to the Warren-Henderson Farm Bureau Foundation. Because the Foundation is a non-profit, 501(C)3 organization, contributors can deduct their gifts as allowed by law. Tax deductible gifts can take many forms. Special memorials and endowments allow for the establishment of an ongoing program in the memory of a loved one, while at the same time providing others with needed and worthwhile assistance. Scholarships, grants and agricultural education programs funded by the Foundation will be direted toward Henderson and Warren Counties.
DONATE ONLINE
If you want your funds to go to a specific fund or event, please designate your wish in the text box.
$
The Warren-Henderson Farm Bureau Foundation was founded in 1992 to provide leadership and educational support to our members and their dependents. One of the avenues for this is to provide scholarships to students furthering their education in agriculture. The Foundation offers scholarships to members and/or members' dependents who are majoring in agriculture or agriculture business. We also offer financial support to members interested in attending the Agriculture Leaders of Tomorrow (ALOT) training sessions and the Illinois Farm Bureau Ag Market Study tours. We have helped teachers who needed financial assistance with Summer Ag Institute fees as well.

Our Caps Your Cause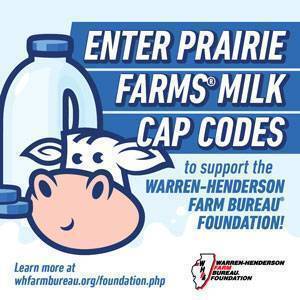 Donate to the W-HFB Foundation through the Prairie Farms Our Caps Your Cause program:
Learn More & Redeem Cap Codes
W-HFB FOUNDATION SCHOLARSHIP
EVELYN TITUS MEMORIAL SCHOLARSHIP
The Warren-Henderson Farm Bureau oversees the Evelyn Titus Memorial Scholarship. Evelyn K. Titus, a long-time resident of Warren County, passed away in January, 1992. In her will, she directed that the proceeds from her estate be used to provide two (2) annual scholarships to seniors who reside in Warren County and are continuing their college education in agriculture or family & consumer sciences. One scholarship is for a male resident of Warren County and the other is for a female resident of Warren County. Recipients will automatically receive assistance for four years as long as they follow the terms of the scholarship. The scholarship deadline has typically been the last business day of February.
The application process is now open - February 28, 2021.

Titus Application Guidelines
Evelyn K. Titus Scholarship Application Form
Evelyn K. Titus Scholarship Teacher Reference Form
Evelyn K. Titus Scholarship Character Recommendation Form